July 6, 2004: Broken bracket for left-rear SPAX shock absorber

I discovered this "little problem" when looking under the Midget for an unrelated reason!
Either the SPAX shock (in yellow, on the right) was adjusted too "firm", or years of bouncing down the road finally took it's toll.
This picture looks straight up at the broken bracket. The front of the car is on the right.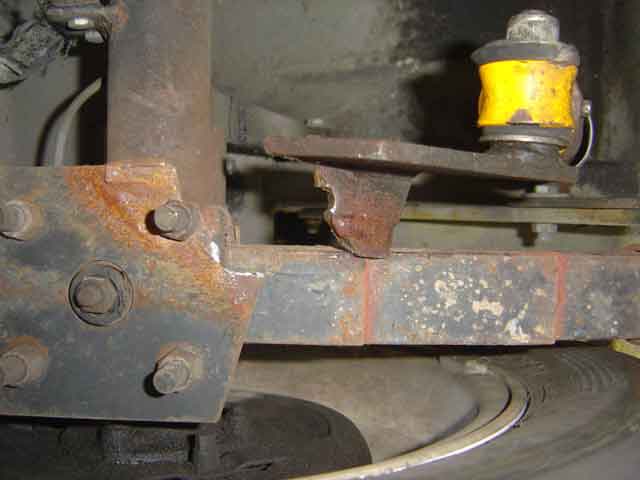 July 10, 2004: The simple answer.

After the consensus at the Midget / Sprite groups seemed to be "just fix it", I enlisted my neighbor with the welding setup.
After about 45 minutes of making it "just so" the job is done. Here is the "finished product":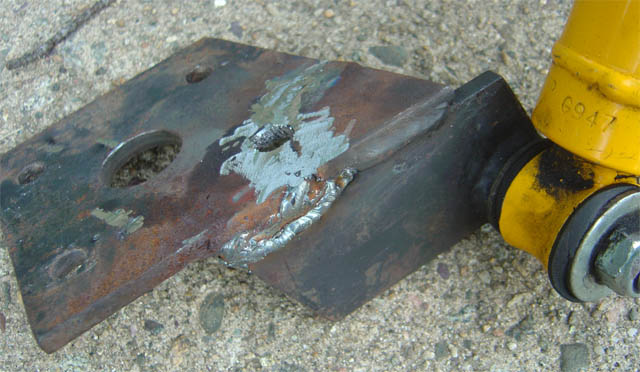 ... and back in it's rightful place...




AND FOR YOUR INFORMATION...

Here is an example of another way to deal with SPAX shocks...
This photo was provided to me by another Midget group member.
Apparently one can take the two stock brackets, flip them over, swap them left-to-right,
and use them with SPAX shocks. This one even has an rear anti-sway bar hanging off the assembly!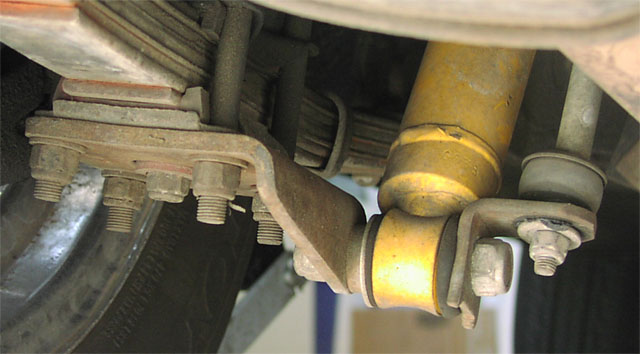 2005 UPDATE: The welded bracket breaks again.

Instead of trying to re-do it (again) I opted for a stock bracket, used in the same fashion as above.
I added a $1.04 collection of hardware from the Home Depot, and the car is back on the road.
I did have to drill out the hole in the bracket a tiny bit, to receive a 1/2" bolt. Also, to duplicate the
"fat center section" of the other bolt, I wrapped a 1" x 6" bit of sheet aluminum around the center part
of the bolt, for the bushes to sit on.